Colombia is a country that's famous for its high-quality coffee. And, Medellin is one of the cities where you'll find coffee shops on every corner, so sometimes it's hard to choose your favorite.
If you're still hunting for that perfect spot, you might want to check out Noir Cafe Bar & Lounge. This café is a cozy place designed for those who want to drink a dark, Italian-style espresso and enjoy their surroundings for a little bit.
Does this sound like your kind of place? If so, let's take a look at this Medellin must-visit!
What to Know About Noir Cafe Bar & Lounge
When I first stepped up into this coffee shop, I noticed the American vibe. In fact, the owners and founders, Hugo and Lidia, are originally from Napa Valley, California. There, they have a vineyard where they grow artisan wine.
Their experience in winemaking made it possible to dabble in coffee, and they came up with some pretty unique drinks. Here you'll find many drinks and meals from the US, so it's a perfect place to have lunch if you miss food from back home.
What stands out most about this famous coffee shop is the quality of their own artisan coffee, which is brought from the mountains of Titiribi and Ciudad Bolivar, two Antioquian towns of Colombia.
The whole process of cultivation and processing of coffee takes place in the finca La Loma, which is basically a traditional coffee farm.
How to Get To Noir Cafe
You can find two coffee shop venues, Lalinde and Lleras park. Both cafes are located in one of the most popular neighborhoods, El Poblado, so it's very easy to walk there, especially if you stay at the Soul lifestyle hotel or the Marquee Hotel.
If you're at the Marquee, you only need to walk a few streets to get to the Noir Cafe. As you stroll over there, you can enjoy the greenery of the Parque Lleras area.
Also, you can take advantage of the inclined roads if you want to get a workout in. It's not a long route per se, but you'll definitely feel it in your hamstrings!
Or, if walking doesn't sound interesting to you or you're in a hurry, you can always take a local taxi service or use hotel transportation.
Website:https://www.cafenoircolombia.com/
Lalinde Address: Calle 8 #37a-41, Medellín, Colombia
Parque Lleras Address: Calle 13 #34-41 Piso 4, Medellín, Colombia
The Vibes at Noir Cafe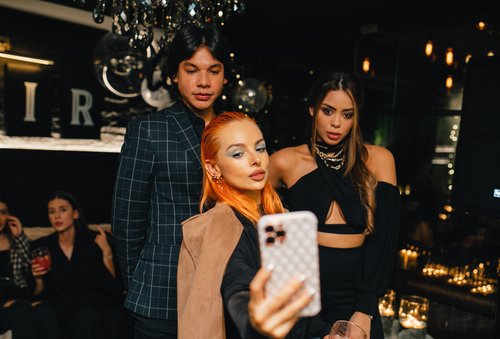 The design of this cafe is inspired by the Château de Noir lifestyle, which is a stunning French palace. You'll see elegant accents around the café that really bring that ambiance to the shop.
There are things like chaise lounges and ornate gold leaf on the walls that make you feel like you've teleported to France!
But definitely what gives a special touch to the place is the patio, especially for those who enjoy outdoor seating. This is a tiny garden that's secluded from the street, making it great for private events.
The Cafe Noir Menu
I made it clear that in Noir Cafe, you can find all kinds of drinks based on coffee. But, what's on the menu?
First, I have to say that this menu is pricey. However, the quality of the menu and the cocktail bar make this experience worth living. Here's a small overview of the menu.
Artisan Coffee & Espresso
All coffees and espressos are made using their in-house coffee brand. Which means you'll have a wide range of flavors, notes, and aromas in your drink depending on your choice.
Some of the most famous drinks on the menu are the macchiato and espresso because they allow experts and novice coffee tasters to appreciate the quality and flavors of coffee.
I always order an espresso when I want that punch of flavors and some caffeine to start working. You can also try the 24K gold latte, perfect for those who just want something decadent to sip on.
Noir's Bakery
Good coffee should always be accompanied by a bun or dessert to balance out the dark flavors. Croissant, lemon tarts, macaroons, and other delicacies are part of the popular Noir Cafe menu.
Something you can't miss when visiting this coffee shop its seasonal pastries. At the time of my visit, I could try Luis David's cheesecake. This stuff is divine, so if you get a chance to try it for yourself, I highly recommend it.
Also, you can't forget Saturday and Sunday brunch, which includes:
Fresh made starter

Inspirational entree

Signature dessert

Limitless sangria or mimosa
Cocktails
The unique craft cocktails are their specialty. And it's something to be expected because it's located in one of the most popular nightlife neighborhoods in Medellin.
Each bartender has their signature drink. In fact, you find many new and innovative mixes that you never thought would taste so good.
Also, if you prefer beer over cocktails, you can try craft beers made in-house by Juan Jose Montoya in collaboration with Chateau de Noir.
However, the flagship products of Noir Cafe are champagnes and sparkling wines, produced exclusively in Napa, California by the Cafe owners.
The Cuisine
If you want to have lunch, have a snack, or share a charcuterie board with your date, then you should check the haute cuisine menu of Noir Cafe.
I recommend you try the deviled eggs with the goat cheese dip. The food is delicious and definitely makes for a pleasant, light experience.
Book Wine or Coffee Experiences
If you have some free time and have not yet learned to identify aromas, flavors, bodies, and notes of coffee or wine, then you can schedule the wine tasting experience or coffee classes. Let's take a closer look at them.
Coffee Classes
The coffee tasting class takes an hour. And you don't have to worry about the language, as they're fluent in English, Spanish and Italian.
The lead barista, Deivis, teaches you the entire coffee process from sowing, harvesting, and commercialization until it reaches your hands in a delicious cup of coffee. Also, they offer a discount if you buy a bag of handmade Noir coffee.
Wine Tasting Experience
Cameron, a wine taster with more than 10 years of experience under his belt, teaches you everything you need to know to identify high-quality wines. He'll walk you through the different wines so that you really notice the subtle flavors.
Delight Your Taste Buds in Noir Cafe
Without a doubt, Noir Cafe deserves its popularity due to its high-quality spirits and haute cuisine that you can enjoy on a classy night out!
Have you already visited this coffee shop? Do you have any other favorite spots you want to share? Let us know in the comments!
Like the story? Take a second to support Medellin Living on Patreon!