Whether you're on the metro, in a tienda or wandering the streets of Medellín, you're likely to spot plenty of tattoos on the locals. The city is known for its street art and creative community, and Paisas love to decorate themselves as much as their environment. Tattoos are most popular with younger generations here, who embrace the warm weather and show off their ink on a daily basis. Unsurprisingly, the City of Eternal Spring is home to some of the best tattoo parlors in all of Colombia, boasting incredibly talented artists and seriously impressive designs, all for a fraction of the cost compared to North America and Europe.
If you've been influenced by the local display and fancy getting your own permanent reminder of Colombia, or you're just curious about tattoo culture, here's our guide to tattoos in Medellín.
History of tattoos in Colombia
Akin to the rest of Latin America, tattoos in Colombia stem from indigenous communities, who use body painting as a means of expression. In Colombia specifically, two of the main indigenous communities known for their tattoo work are the Wayuú in Guajira and the Embera in Chocó. Tattoos (typically done with dye from plants) and body modification are carried out to represent spiritual connections with ancestors, hierarchy, nature, and rituals.
After tattoos emerged beyond these communities but not yet into mainstream culture, they were primarily associated with crime and gang warfare. This is because tattooing was used to symbolize allegiance to a particular gang, and also because tattooing was commonplace in prisons. As a result, tattooists used to be in short supply and showing tattoos in public was widely discredited.
Fast forward to 2019 and there has been a significant shift in attitudes. Today, tattoo shops can easily be found throughout cities and millions of people proudly show-off their ink. Admittedly, Colombia is still a predominantly Catholic country and there are some places and scenarios where tattoos are not considered appropriate. However, in Medellín, there is no real need to cover up.
Where to get a tattoo in Medellín
Opio Studio Tattoo
Avenida 33 #76-127
Operating for more than 20 years, Opio Studio Tattoo is a bit of a legend in the tattooing community in Medellín. The atmosphere here is always welcoming and professional, making it a hit with both locals and foreigners. All employees are highly skilled and each has their own specific forte, ranging from traditional Japanese art, realistic portraits, handwriting match, and vivid color tattoos. The shop has three locations in Envigado, Poblado, and Laureles, and clients are welcome to contact the expert tattooists via their social media or walk-in for a consultation.
TABÚ Tattoo Studio
Carrera 40 # 10A-25 Floor 2
TABÚ is a favorite among the trendy hipsters of Poblado who come here to abide by the shop's slogan: 'marca tu personalidad' ('mark your personality'). The fine lining, crisp shading, and creative drawings solidify TABÚ as a tattoo spot for the new generation. For seriously customized tattoos done in a laidback place with very friendly staff, this studio is a must.
To meet other tattoo-enthusiasts, TABÚ is due to celebrate its fifth anniversary on November 16th and is hosting a special event with giveaways and entertainment.
Studio 13 Tattoo
Calle 10 #37-12
Run by four guys with an obvious passion for body art, Julian Alvarez, Edwin Castillo, Jose Baena, and Leonardo Gonzalez make up Studio 13 Tattoo. Located in the heart of Poblado, this small studio sees a steady crowd of loyal customers return for the staff's talented hands. From quaint detailing to large-scale projects, this tattoo studio is praised for its skulls, dragons, lettering, and even the most challenging of requests.
Fluink
Circular 2 #72-30
Now tucked away above a shop in Laureles, Fluink has recently moved location (just around the corner from the previous studio). The place is owned by Andrés Molina and Nathalie Gómez – two tattoo artists with experience working in Mexico and New York. While there's a two-month waiting list to be tattooed by Andrés, the studio has a whole team of quality artists ready to be set to work researching, sketching, and needling. The moto at Fluink is 'sin miedo' meaning 'without fear' and so naturally, anything goes here. Whatever style, location or size you want, it'll be perfectly executed at Fluink.
Sailors n Mermaids
Carrera 35 #7-66
For custom tattoos done by the creme de la creme, Sailors n Mermaids are the masters of ink. They specialize in traditional tattoos but are able to handle a wide variety of requests and their finished results are extra Instagram-worthy. People who have visited Sailors n Mermaids comment on the excellent service, which is considerate and especially great if you're going under the needle for the first time. Alternatively, if you're desperate to get rid of a bad tattoo from your teenage years, Sailors n Mermaids has a laser tattoo removal service too.
Events: Expotatuaje
The biggest tattoo event in the city, Expotatuaje takes place annually to showcase the finest, most innovative, and most bizarre tattoos in Medellín. The event aims to create a space where budding tattooists can learn more about the industry and how to set up a business. It's also a space for the general public to admire the array of designs, and of course, get a new tattoo from some of the top artists in the country. Additionally, Expotatuaje targets misconceptions about tattoos, hoping to continue positive connotations of inkwork and promote safe practices.
2020 will be the 11th edition of Expotatuaje, and will take place in Plaza Mayor. Dates are yet to be announced.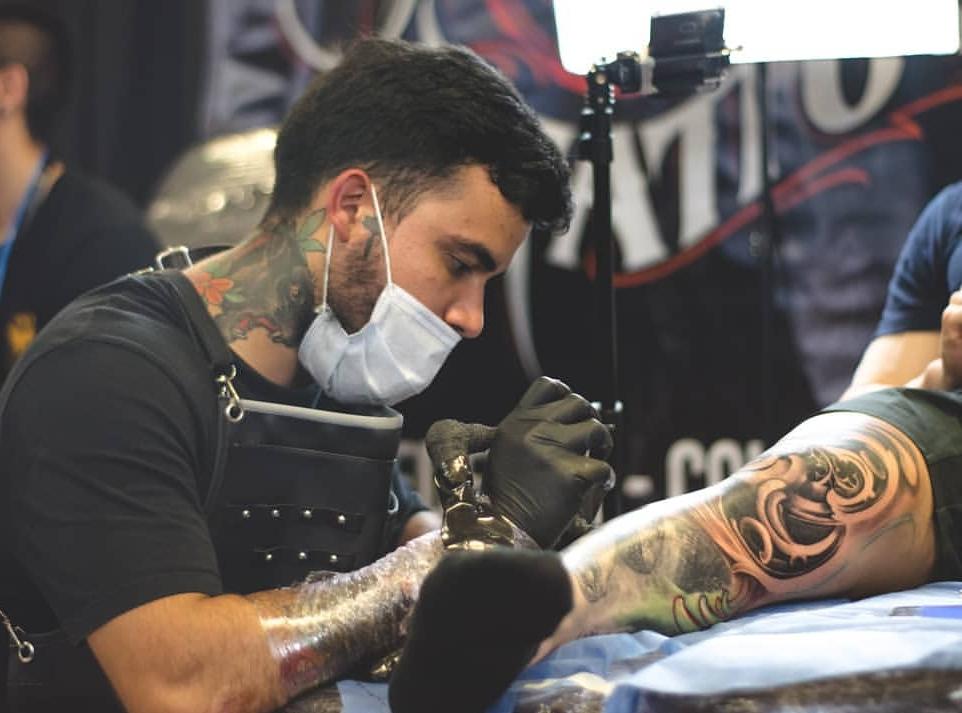 Word-of-mouth
Considering the huge pool of skilled tattooists in Medellín, one of the best ways to find the right person is to simply ask around. A lot of artists operate independently and may not have their own studio set up. If you see someone with a tattoo you like, ask them where they got it – it may be that a friend or cousin did it and you could get a better rate with them. Similarly, use Instagram or Facebook to search for under-the-radar tattooists and message them directly.